Classroom Facility
In order to improve teaching quality and flexibility, CNC is maintaining the electronic lectern facilities. These electronic lectern facilities are located at the Second, Third, Fourth and Sixth Teaching Building, Biotech Building (It was named Fifth Teaching Building), Hong-Yue Technology & Research Building and Everlight Building. Taipei Tech professors have been extensively utilized the modernize instruction methods using applied electronic lectern facilities, such as connected with i-School online learning platform is audio and visual lecture capture technology. The lecturer only needs to press the recording and stop recording button on the desktop screen of an electronic lectern, the whole course lecture will be uploaded to the server for online learning or after class reviewed purpose.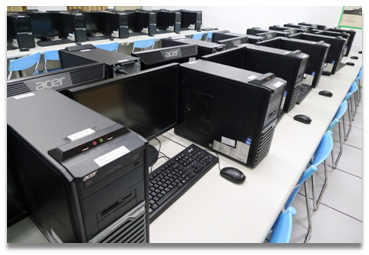 This established facility is relocated, expanded and improved hardware and software during Summer Break every year which include electronic lectern, overhead projector, computer, auxiliary input panel, electric projection screen... etc. If the equipment and facilities become out of order when being used, please inform the CNC personals to check the cause and repair it.

Facility Repair Services:

By Phone: Please dial extension number #3295 / #3200

eSupport: Please go online URL:
http://140.124.13.77/WebSite2/report.aspx
to file a repair request. We will look into the problem and update the repair status for your reference.

Filing classrooms lightings, fans or air conditioner problems, please contact the
office of General Affairs extension number #1330.